Wisconsin IDEA
Insight • Data • Economics • Analysis
Nearly Two-Thirds of Total Businesses in the Health Care and Social Assistance Sector are Women-Owned
In this month's data snapshot, we explore the landscape of women-owned businesses in Wisconsin. To calculate sector shares, we utilize both employer and nonemployer establishments to present a comprehensive picture, as focusing solely on employers would disregard a significant segment of women entrepreneurs. For example, focusing on employer business would exclude a staggering 89% of women-owned businesses in Wisconsin which currently have no employees.
Figure 1. Sectors with the Largest Shares of Women-Owned Businesses Wisconsin, 2019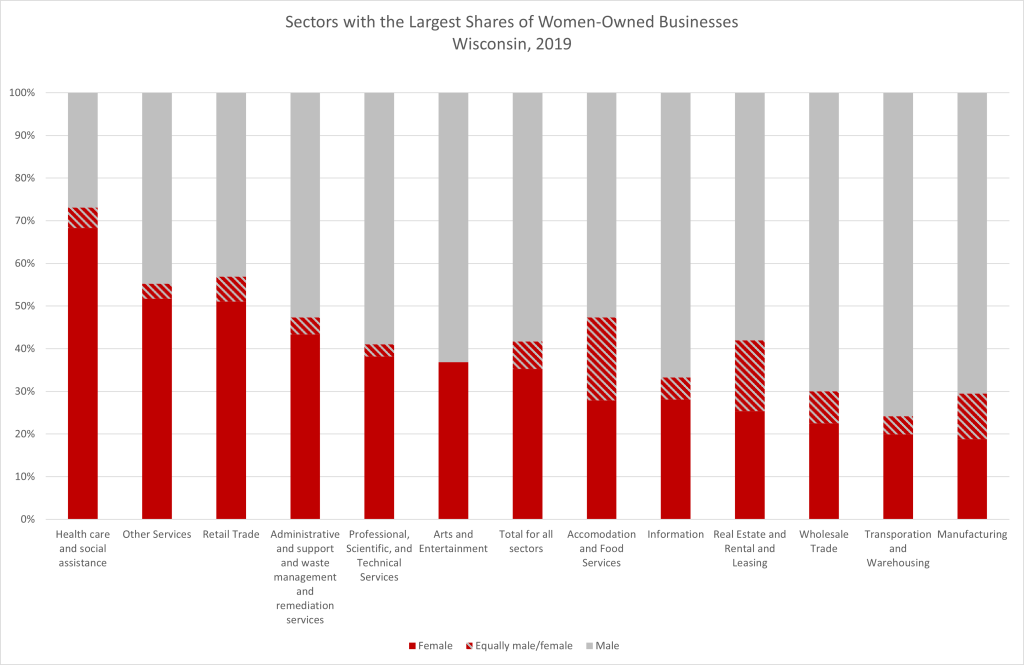 Leading the way among women-owned businesses, the health care and social assistance sector stands apart from other sectors, claiming nearly two-thirds of the total share of establishments. Within this sector, we find a diverse range of enterprises, including ambulatory health care services, hospitals, nursing and residential care facilities, as well as a substantial number of home health aides. These businesses play a vital role in supporting not only the economic strength of regional economies but also the well-being of communities across the state.
Following closely behind, with a share of 51%, is the "Other Services" category. This sector encompasses a wide array of ventures, ranging from equipment and machinery repair to laundry services, pet care services, and even dating services. The wide range of businesses in this category plays an essential part in providing necessary and desired businesses across Wisconsin communities.
While the retail trade sector claims the third-largest share of women-owned businesses, it boasts the highest number of such enterprises, totaling nearly 25,000 across the state. These women-led retail businesses contribute significantly to the local economy and are instrumental in providing diverse products and services to Wisconsin's consumers.
Beyond these three categories, other sectors exhibit a considerable underrepresentation of women-owned establishments, even when including equally male/female-owned businesses. The transportation and warehousing and manufacturing sectors lag significantly, with only 20% and 18%, respectively, of businesses being women-owned.
---