June 2021 — This topic in Downtown Economics summarizes key points or "takeaways" from the recent webinar titled Shaping Downtown after COVID 19. The well-attended webinar highlighted examples of successful initiatives in four cities: Ithaca, New York, and Appleton, Eau Claire, and La Crosse Wisconsin. The following takeaways are presented without significant editing. You may watch the entire webinar below.
Webinar Recording
Part 1: Shaping a City, Ithaca, NY: A Developer's Perspective
Author Mack Travis and Executive Director of the Downtown Ithaca Alliance, Gary Ferguson, share their story of downtown transformation. In the past 25 years, $750 million has been invested, 25 major projects were developed, and three 10-Year Strategic Plans were conducted to guide this growth. Successful responses to the COVID-19 crisis are discussed. For a full read of the story, we recommend reading Mack's book.
Part 2: Appleton, Eau Claire, and La Crosse, WI
Using the book Shaping a City as background, Part 2 discusses three Wisconsin downtowns with active college communities. Downtown and community leaders from these cities share some of their unique responses to COVID-19 and their downtown development outlooks.
Q & A followed by Participant Idea Sharing
In the final part of the Zoom video program, participants were invited to ask questions and offer their comments and ideas for the communities in which they live or work. The shared expertise of the full group results in a collection of additional ideas that could help downtowns increase market capture, new construction, building reuses, and financial return-to-business operators in the communities.
Shaping a City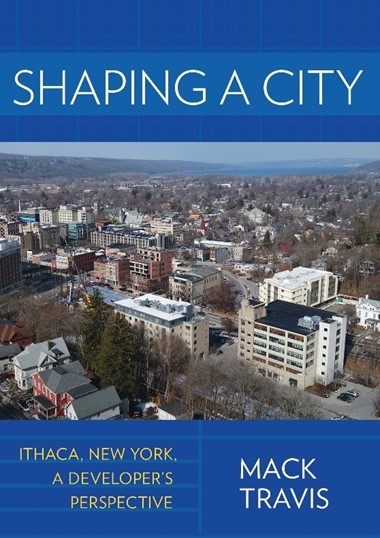 Shaping a City is the behind-the-scenes story of one developer's involvement, from first buying and renovating small houses, gradually expanding his thinking and projects to include a recognition of the interdependence of the entire city—jobs, infrastructure, retail, housing, industry, taxation, banking and City Planning. It is the story of how he, along with other local developers transformed a quiet, economically challenged upstate New York town into one that is recognized nationally as among the best small cities in the country.
For a copy of Mack's book Shaping a City, Ithaca, NY: a Developer's Perspective contact Bill Ryan.
---
Part 1: Shaping a City, Ithaca, NY: A Developer's Perspective
THE REVITALIZATION OF DOWNTOWN ITHACA
TAKE-AWAY NOTES FROM ITHACA, NY
Gary Ferguson, Downtown Ithaca Alliance (DIA) Executive Director
Key Takeaways:
Prior to 2004, most new developments were occurring in the Collegetown neighborhood next to Cornell or in the surrounding towns. We estimated that less than 5% of all development was attributable to the urban core. Our goal: retain our pro-rata share of growth.
Leading up to 2004, the City also initiated a planning effort to open up a major arterial to big box development. The community had previously fought big boxes. The Downtown program fought to restrict this arterial rezoning to prohibit small spaces. The new zoning called for units to be at least 5,000 SF.
Three primary factors accelerated downtown development: targeted tax incentives, zoning for downtown density, and the building of a large new public parking garage.
The targeted tax abatement program (CIITAP) was targeted specifically to urban core areas that had historically low new investment track records. This included all of Downtown. The program traded tax incentives (stepped 7-year property tax abatement, sales tax exemption on construction, and mortgage recording tax exemption) for projects that filled the zoning envelope. As the program evolved over time, other community benefits (energy, local labor, affordable housing) were added to the requirements.
The City chose to rezone the Downtown to further encourage density. A number of areas were up-zoned to provide for taller and larger buildings (up to 140 feet). The historic buildings along the Commons pedestrian mall were protected by restricting heights along the mall to 60 feet.
The early Cornell University-sponsored Seneca Place project was able to leverage a new parking garage from the City. Placed three blocks away from Seneca Place, the new 700 space garage also served as a catalyst for future projects. The garage was built by a national nonprofit developer (NDC) and is owned by a single-purpose nonprofit. It will revert to the City at the end of its bonding period. Our other institutions of high education also built downtown projects.
Ithaca was an early pioneer instituting Downtown CBD zoning that did not have any parking requirements. This action reduced the need to reserve Downtown land for surface parking and ultimately was another important incentive for development.
The Downtown program was a catalyst for advocating for new non-student housing development. Prior to 2005, there had been very little non-student housing built in the marketplace. The DIA commissioned a housing study to demonstrate the capacity of the market to support this type of housing. Mack Travis was the first developer to take up this challenge. This housing study has been updated every 5-7 years.
The catalytic Seneca Place project was a landmark project by Cornell University to invest off-campus in the community. The university offered a 20-year market-rate lease of 70,000 SF of Class A office space as a lure to attract development proposals for both office and other mixed uses. The result was a mixed-use 9-story building (with the added parking garage) that featured the Cornell office space for 300 employees, additional spec office space, retail space (including Downtown's first Starbucks), and a 105-room urban format Hilton Garden Inn.
The DIA initiated 10 year Downtown strategic plans. Rather than simply focus on the downtown organization, the plans focus on the entire Downtown and our vision for future growth and development. The DIA and City of Ithaca are currently in the final stages of writing the third 10-year plan (for 2030). These plans provide roadmaps for City policy and resource allocation and guide the programs and work of the DIA.
The Ithaca community did not always take kindly to some of the proposed new development plans. Each project had detractors and opposition who spoke about the Downtown and City losing its "small city/village" personality. The DIA helped developers to overcome these hurdles by rallying support. Eventually, the up-zoning was a strategy to codify this density effort.
Developer recruitment was local, regional, and national. Local developers, like Mack Travis, were the first to initiate projects. Other regional developers followed. We eventually also attracted several national developers.
Over time, the City realized that design guidelines would be important to help achieve the desired architecture and street-level impact. The City hired Boulder-based Winter & Associates to draft the guidelines, which were approved by Common Council.
The City and County IDA eventually modified the CIITAP incentive program to require at least 10% affordable housing in projects.
The City also made prudent use of properties it owned downtown to stimulate development. A large surface parking lot was offered to up to developers for mixed-use projects. The result was two major buildings- Cayuga Place and Lofts at Six Mile Creek plus a public creek walk. The aging Green Street parking garage was offered in an RFP for redevelopment, so long as the parking was rebuilt and retained for public use. The results from this effort—two major projects totaling $200 million in investment that created 500 new parking spaces to be leased by the City, 381 new housing units (including 200 affordable), and a new conference center.
The DIA led the effort to build a Downtown community conference center. This $37 million project is being built as part of the Green Garage redevelopment and will be owned by a new single-purpose LDC. The City entered into a financial assistance agreement to assure the bonding and the project is a true partnership of the City, Chamber, DIA, CVB, downtown hotels, and the County.
The DIA has grown from a 2 person, $134,000/year organization into an 11 person (plus ambassadors) $1.2 million/year entirely devoted to leadership, management, marketing, and promotion of downtown. Since 2004, Downtown Ithaca has more than doubled its built SF and attracted well over one-half billion dollars in new investment.
---
Part 2: Appleton, Eau Claire, and La Crosse, Wisconsin
KEEPING DOWNTOWNS ECONOMICALLY ACTIVE DURING THE PANDEMIC
WHILE CONTINUING TO PREPARE FOR FUTURE DEVELOPMENT
Jennifer Stephany, Executive Director, Appleton Downtown Inc.
Karen Harkness, Director of Community and Economic Development, City of Appleton
Aaron J. White, MBA, Economic Development Manager3, City of Eau Claire
Andrea Trane, City of La Crosse, Director of Planning, Development, and Assessment
Karl Green, UW-Extension, Community Development Institute
Staying Current on the Pandemic
All four cities jumped to action when it became apparent that we were facing a major crisis in the health and well-being of our residents. New synergies among organizations and governments were formed to keep the community informed.
One of the first actions in the four communities was scheduling meetings to ground everyone in what we knew about the emerging crisis.
When the urgency of the pandemic became apparent, each downtown quickly came together and organized their combined resources and links to assistance.
Roundtable discussions became a weekly opportunity to discuss how businesses could obtain help. Government and local organizations created websites that would serve as a resource for the public.
Many businesses used this uncertain time during the pandemic to focus on who will be our customers when we reopen? With the uncertainty of the office market, remote work, risks of indoor dining, pre-existing struggles in retail, and more, there was plenty of opportunities to identify new market segments that might attract spending and investment downtown. As in Eau Claire, it was time to explore the market potential of various segments.
The city administration and the Business Improvement Districts have become central sources of information for funding, grants, and loans. One of the first things that cities offered were loan guarantees and halting payments to the city.
Activating New Uses for Downtown
Look to the future to imagine a central social district for the city. Not only does it provide essential and nonessential services, but it is also the heart of culture, recreation, arts, retailing, and services.
Activate downtown so that it is recognized as the business and services hub, and the center of arts, entertainment, recreation, health care, education, and other community valued users. Appleton did this with the focus being a "shop local" community. The cities have used paint and sip-type experiential opportunities open to the sidewalk and engaging the passer-by.
Generate sales of gift cards to encourage continued business well after the pandemic subsides.
Initiate other programs to return and keep people downtown. Encourage people to stay engaged through downtown contests, scavenger hunts, and other activities.
Explore how social media will help define and be an important component of the new downtown. Approximately 900 volunteers recently participated in a downtown clean-up on a Saturday morning.
Look for opportunities to leverage the services of other businesses with each other. For example, in Appleton, where they no longer could accommodate many people in one place, they decided to work with restaurants with outdoor seating to have their own smaller concert at a different location each week. In addition to providing restaurants with their own entertainment, it also helped the musician maintain a concert schedule and reliable sources of income.
Invest in infrastructure to accommodate new developments and ideas once construction resumes. For example, invest in signage and street improvements to accommodate curbside pickup locations assigned to businesses.
Supporting Local Business
Many downtown executives and government leaders have attempted to visit all downtown businesses. Their goals included listening to the existing business operators and asking what kind of assistance do they need to maintain payroll and generate a realistic level of sales.
Expand and connect with new market segments not previously served. In Eau Claire, expanding its reach into the Twin Cities market is being examined.
Reinforce and promote a buy local campaign. Offer gift cards. Make the campaign reinforce that downtown is the place to go with the resources to help their business succeed. Develop systems to measure the true cost analysis of a buy-local campaign.
Develop a marketing program that reaches out to the broader community and invites local residents to feel at home Downtown. One message shared was that downtown business owners and community and government leaders are there to help. Through listening sessions with businesses, various ideas on what fees and permits should be relaxed.
Investing in Retaining Businesses
All related programs for the impacted businesses should be posted to notable websites, including those by the city, downtown program, and other community entities.
Adjust local zoning regulations and street restrictions to allow more use of bicycles, outdoor dining, closing a block for a week, walkability, etc.
To build enthusiasm for the future, encourage operators and developers to start immediately with new initiatives.
Help businesses and investors fully utilize programs like community development block grants (CDBG), Tax Incremental Financing, WHEDA Tax Credits, facade improvement grants, and other development grants to rid blight.
This might include meetings with businesses to explore different funding programs that might be available to cover lost income resulting from a labor shortage. Shortages of workers might force businesses to reduce hours or delay full opening until an adequate labor pool returns.
In preparation for a safe and full reopening, make sure business operators understand the safety requirements still recommended by science.
Invest in the Future of Downtown
Help building owners and operators access small facade improvement grants where a relatively small dollar amount can lead to a curbside appeal and resulting gains in sales.
On a large scale, $45M investment to double the La Crosse Convention Center or the construction of a Community Conference Center in Downtown Ithaca may seem to be happening at the wrong time, but by the time it opens the pandemic may have receded and significant pent-up latent demand may result. Such large real estate developments need to be analyzed over many years of cash flow.
Recognize that all business and real estate developments do not need to be downtown. There are other areas around the city or county that might be more appropriate for less dense development. Developers should look both ahead and into the past in generating proposals that will build upon the progress that has been made in prior years.
Continue working with developers throughout the pandemic, allowing them time to adjust and reassess their plans. Continue to support their past efforts even though they were put on hold.
Adjust local zoning regulations and street restrictions to allow more use of bicycles, outdoor dining, closing a block for a week, walkability, etc.
Remain attentive to trends like distant hiring where an employee may be hired by a company with Telecommunication technology. Similarly, continue assessing the future of downtown's office market. In particular, what are trends saying about remote work and its impact on downtown office space needs and rental rates?
Some restaurant concepts have been tested by the pandemic, while others survived and prospered. Some were not hurt because of their dining orientation, outdoor seating capacity, reputation for safety, etc. Other hospitality businesses, including many hotels, fared much worse due to the decline in travel.
---
Conclusion
As we look beyond the pandemic, it is important to recognize how consumers and businesses have changed over the past year. The emergence of curbside pick-up, delivery, and other services are now the new normal for producing food for home use, or for ordering from a restaurant. Different businesses performed or underperformed, within numerous retail categories. The number of remote workers and their jobs continues to grow, raising the question of how much office space do we really need. As expected, the hotel industry, experienced notable volatility as they wrestled with periods of closure or maintaining a partially empty building, without the revenues to cover necessary fixed staff. One bright spot is the significant interest in quality and affordable downtown housing. this may very well be the catalyst to activate our downtowns after COVID-19.
---